Iowa Sports Gambling Bill Expected To Advance To House
Bill H 648 will be amended and passed by more than a two-thirds margin in the full committee
Amendments to the bill include: ban of in-game bets and earmarking portion of gaming revenue for problem gambling
Another bill amendment will add a temporary in-person requirement for mobile registration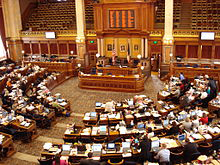 IOWA - Iowa bettors have something to cheer about for the coming days as a sports betting legislation is set to advance to the House floor. The bill struggled to get through the first committee but is now on its way. The bill, after a 4-1 subcommittee vote, will be passed and amended in the full committee on Wednesday.
What Is The Bill?
H 648 is a sports gambling bill related to sports gambling and wagering. The bill will include fantasy sports contests, sports betting, and provide taxes as well. The bill will also be amended on Wednesday.
The Bill Amendments
After moving onto the House floor, the bill is set to have some amendments made on Wednesday. One of the amendments is a ban of in-game bets on Iowa collegiate players. Another is to earmark 0.25% of the 6.75% in state taxes from gross gaming revenues to assist in helping problem gambling.
Another is to add an in-person requirement for mobile account registration for the first 18 months. The last amendment to the bill is to extend 11% of the casino revenue that Prairie Meadows uses to financially support Its live horse racing program and put that money to sports betting revenue. The 11% will not be permanent, however, as the number will drop to six later.
Bill Momentum
In order for the bill to pass it will need support from both political parties. One Representative, Bobby Kaufmann, added certain bill amendments in order to help ensure the bill's success. The collegiate ban and the earmark for problem gambling were choices to reel in support from the other party.
"The bottom line is this thing isn't passing on the House floor without Democrat votes, so we have to make concessions and we're doing that," said Kaufmann.
If the amendments help bring Democratic support to the bill, then it has a strong chance of making it past the House floor and passing into law. The deadline for bills to make it out the House committees is April 5th, with the deadline approaching soon Iowa may not be far away from sports betting in Iowa.
Best Iowa Sports Betting Sites - 100% Trusted + Safe
| | | | | |
| --- | --- | --- | --- | --- |
| | | 50% Up To $250 | VISA + Wire Transfer | |
| | | 50% Up To $1,000 | VISA, Bitcoin, Cash Wire | |
| | | 50% New Member Bonus! | VISA, Bitcoin | |
| | | 100% Up To $300 | VISA, Bitcoin | |
| | | 50% Up To $1,000 | Bitcoin, Wire Xfer, VISA | |