Sports Betting In Iowa Would Boost Horse Race Purses
A subcommittee meeting was held on Tuesday for IA SB 1168.
The bill will allow horse race track in Altoona to boost their horse race purses.
Some senators do not see the point for this part of the bill.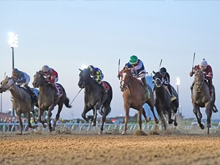 ALTOONA, Iowa – A Senate subcommittee meeting on Tuesday held discussions for a sports betting bill that would boost the prize money for horse owners that race in Altoona track.
One of the provisions in IA SB 1168 is that it would use the profits of sports betting to increase the prize money size for horse owners racing at Prairie Meadows Casino. Many lobbyists joined the discussions about this particular part of the bill.
Where Would The Extra Prize Money Go To?
Sandra Conlin from the Iowa Quarterhorse Racing Association said that this extra prize money would go directly back to the state. She said that horse race winners "are investing in their communities" by buying horse feed and having veterinarians take care of the horses.
A lobbyist for Prairie Meadows, Troy Skinner, said that a large percentage of prize money is given to winners who come from out-of-state. Up to 65 percent of the winners in the Prairie Meadows Casino are out-of-state racers.
It seems like all of the lobbyists from the Prairie Meadows Casino seemed to be against adding money to the horse race prize pools. They said that they would end up being treated differently from other casinos and that is unacceptable.
The Bill Could Easily Change
One of the senators has issues against having a prize boost for horse races that comes from sports betting in Iowa. Senator Pam Jochum is completely against the measure.
"Really, truly do not understand why we need to continue putting more and more money into purses," said Jochum.
The main sponsor of the bill, senator Roby Smith, told the committee on Tuesday that this is likely not going to be the final version of the bill. He said that he is going to listen to the feedback from lobbyist and his fellow senators and adjust the bill as needed.
IA SB 1168 still has a long way to go before there will be any votes on it at the main Senate floor. The bill is now heading to the Senate Ways and Means Committee for further discussion.
Best Iowa Sports Betting Sites - 100% Trusted + Safe
| | | | | |
| --- | --- | --- | --- | --- |
| | | 50% Up To $250 | VISA + Wire Transfer | |
| | | 50% Up To $1,000 | VISA, Bitcoin, Cash Wire | |
| | | 50% New Member Bonus! | VISA, Bitcoin | |
| | | 100% Up To $300 | VISA, Bitcoin | |
| | | 50% Up To $1,000 | Bitcoin, Wire Xfer, VISA | |