Online Sports Wagering Now On The Table For Iowa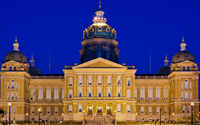 DES MOINES, Ia. – Iowa lawmakers have been considering legalizing sports wagering for some time now. With over eight bills on the matter currently active, Iowa is now met with Senate Study Bill 1168 which would legalize both mobile and online sports betting.
For those looking to use those platforms, they would have to physically register themselves at one of the state's casinos, horse racing tracks, or other gambling establishments. Only those facilities would be permitted to have a sports betting license.
The potential legislation was introduced by Senator Roby Smith, chairperson of the Committee on State Government. While there was no set tax rate or licensing fee listed on this proposal, the bill is still scheduled for a hearing in his committee at 5 p.m. local time today.
The head start leaves plenty of time to fill in details such as the fees associated with a license and help clarify which gaming establishments could apply for them.
What Else Is Included In The Bill?
Even though the bill is relatively incomplete, there are some other key aspects to take away from its current form.
The first being that this legislation would also legalize daily fantasy sports. Major companies such as FanDuel and DraftKings have not accepted players from the state before so this could be their chance.
The second being that a designated integrity fee paid to sports leagues was not directly stated in the bill's language. However, the state's gaming commission has the authority to share funds with a team or league.
The last and most surprising takeaway is the fact that the Iowa Lottery is not part of this plan at all. Other state's such as Delaware and Rhode Island have assigned their lottery commission with regulatory authority over the activity and have been able to retain the most tax revenue by doing so.
The bill will have months to be able to grow and change as various stakeholders plead their case. The meeting today will simply add to the ongoing steps needed to finally reach legal sports betting in Iowa before the session ends May 3.
Best Iowa Sports Betting Sites - 100% Trusted + Safe
| | | | | |
| --- | --- | --- | --- | --- |
| | | 50% Up To $250 | VISA + Wire Transfer | |
| | | 50% Up To $1,000 | VISA, Bitcoin, Cash Wire | |
| | | 50% New Member Bonus! | VISA, Bitcoin | |
| | | 100% Up To $300 | VISA, Bitcoin | |
| | | 50% Up To $1,000 | Bitcoin, Wire Xfer, VISA | |