Sports Betting For Iowa Residents
The new laws about sports betting in Iowa are fairly straight forward since the state legalized the practice. We decided to take it on ourselves to sift through the various Iowa State Statutes related to what is and is not allowed as far as sports betting for Iowa residents is concerned, and we have found that there are actually quite a few avenues that Iowa residents can take to place sports bets. We have found provisions that allow for gaming facilities in the state to offer retail and mobile sports betting. As of August 15, 2019, these sportsbooks are now active! What we have not found is anything that makes it a specific crime for you to start betting on sports right now so long as you do it over the internet and, consequently, an online sportsbook like Bovada, BetOnline, SportsBetting, BetDSI, and MyBookie.
However, if you want to find out about the sports betting venues that Iowa have unveiled, you have come to the right place. There were multiple bills introduced since the repeal of the Professional and Amateur Sports Protection Act that would have formally legalized sports betting for Iowa residents. But, one of them stood above the rest and provides a way for everyone in the Hawkeye State to enjoy the added amenity. Iowa casinos are set to be in line to host sports betting in the near future so Iowa residents can expect to see sportsbooks in Des Moines along with sportsbooks in Cedar Rapids, among other cities. We'll go over what to expect from these potential land-based sportsbooks as well as discuss the Iowa sports betting laws in detail and provide you will all the information you need when looking for Betting odds on Iowa, Iowa State, or any other team in the country.
Legal Sports Betting Sites Accepting Iowa Residents
Iowa residents have a legion of legal sports betting sites that would gladly take their wagers. From the selection, there are online sportsbooks regulated by Iowa's government that provide a legal branch of sports betting. There are six state-backed sports betting sites like DraftKings, William Hill, FanDuel, BetMGM, Betfred Sportsbook, and PointsBet as well as brick-and-mortar ones in Iowa. However, the best sports betting sites in Iowa are licensed outside of the country and allow all types of bets - including college sports and player prop bets based in Iowa, unlike the local books. Sportsbooks like Bovada, BetOnline, and MyBookie all have a stellar track record with handling sports bettors in Iowa and we recommend doing yourself a huge favor and join this safe sports betting platform.
Bovada - More Bettors Than Any Other Book

Deep inside the American Heartland, there are sports fans wishing to place some bets on their favorite games without having to travel to a land-based sportsbook. Luckily, Bovada has a massive sportsbook that beats the land-based competition at their own game. Not only will you find expert odds and numerous wager types, but you can also get in on all the action from the comfort of your own home. Bovada is the world's leading online sportsbook that accepts Iowa players, and there has never been a better time to join for free.
Bovada's latest claim to fame that is still going on now is a limited time offer for new members that can add up $250 to your initial bankroll. This so-called Welcome Bonus makes sure new members start off with enough extra funds to fully explore the sportsbook risk-free. You don't need to be a pro to enjoy the sportsbook at Bovada either, there is an extensive glossary as well as a help section that will get you wagering in no time. All this combined makes Bovada one of the very best places online to enjoy sports betting for Iowa residents.
SportsBetting - Lifetime Bonuses For All Bettors

You don't have to have eyes like a hawk to find a great online sportsbook in the Hawkeye State: all you need to do is simply to head over to SportsBetting to get in on the best game in town, even if the place you'll be betting is strictly online. This site refuses to take shortcuts when it comes to delivering a rock-solid sportsbook. You will find straight wagers, totals, money lines, parlays, futures, teasers, and many more bet types for all professional sports and leagues. There are also college games, lesser-known sports, and political props to really mix things up. This innovative sportsbook is in a league of its own, and you can join for free right now.
The amazing sportsbook isn't the only reason to join SportsBetting, as the showrunners and bookies there also offer handsome bonuses and promotions for their loyal players such as the Bonus For Life deal. This perk rewards you for being a loyal member throughout your whole SportsBetting career by adding an extra 25% to every qualifying deposit. Check out the promotions page at SportsBetting to learn more about this leading site enabling sports betting for Iowa residents.
BetOnline - Mobile App Allows You To Bet Anywhere

BetOnline combines two of the greatest things in the world in our opinion: sports betting and never leaving your house if you don't want to. The ability to enjoy your hobby – whatever that might be - from the comfort of your own home can seriously not be overestimated, and BetOnline, one of the very best top rated operators in the hotly contested segments of the sports betting world gives its players that ability and gives it in excess. Now, you might say, "Yeah, but a bunch of other sites do that too." Well, BetOnline has a lot going for it that the competitors have never thought of or, if they have, that they simply don't have the ability to make into a reality. Beyond the fact that this is a great online sportsbook that accepts Iowa players, it also boasts some of the best features in the business.
For instance, have you ever wished you had the power to place bets on your favorite teams, players or sports no matter where you were on gameday? If that sounds like you, then you owe it to yourself to check out BetOnline's wonderful mobile betting app to access the entire site from your iPhone, Tablet, Android, or any other device that connects to the internet. You don't have to download anything or pay any extra costs, just sign in to your account and you will have the entire sportsbook at your disposal. Join now to check out this amazing feature.
Best Iowa Sports Betting Sites - 100% Trusted + Safe
| | | | | |
| --- | --- | --- | --- | --- |
| | | 50% Up To $250 | VISA + Wire Transfer | |
| | | 50% Up To $1,000 | VISA, Bitcoin, Cash Wire | |
| | | 50% New Member Bonus! | VISA, Bitcoin | |
| | | 50% Up To $1,000 | Bitcoin, Wire Xfer, VISA | |
| | | 100% Up To $300 | VISA, Bitcoin | |
Is Sports Betting Legal in Iowa?
Sports betting was regulated on May 13, 2019, in Iowa with the passage of IA SF 617, Governor Kim Reynolds signed it into law to make sports betting officially on the lawbooks in Iowa. This allowed casinos sprinkled throughout Iowa to launch up to two retail sportsbooks. Legal mobile sports betting arrived shortly after making Iowa one of a handful of states to offer both land-based and online sports betting. One of the major disadvantages of using Iowa land-based sportsbooks as opposed to the online sportsbook we recommend on this webpage is that you cannot bet on props for in-state college teams like the Iowa Hawkeyes and the Iowa State Cyclones. Using online sports betting sites like Bovada or BetOnline among the others we have listed ensures that you can get the full variety of game lines, futures, or player props on the Iowa State Cyclones and Iowa Hawkeyes alike.
Iowa Sports Betting & Gambling Laws
The gambling laws in the state of Iowa are fairly extensive. In Title XVI, Chapter 725, section 7, all of the gambling laws have been listed. Under this section, it used to be that it was a crime for players to "make any bet." Whether or not that included betting over the Internet was subject to some debate as there is no specific mention of the internet as such in the laws. However, with the passing of IA SF 617, Iowa residents can bet on almost any sport and anywhere. The Iowa Racing and Gaming Commission is in charge of overseeing the new industry and issuing out licenses.
The bill states that gaming venues such as casinos and racinos can host retail sportsbooks, as well as partner with an online sports wagering provider to develop a statewide mobile app. They can offer lines on every professional sports team as well as every collegiate team in the country. However, they can not offer prop bets on collegiate athletes that play in the state of Iowa. This is to ensure that no corruption takes place in those matches. This is one particular rule that online offshore sportsbooks don't have to abide by. Because they operate in a different country completely, they are not subject to state laws such as this one. Therefore, if you want to place a prop bet on a Hawkeye wide receiver or a cyclone point guard for example, then you can.
Legal Gambling Age For Iowa Residents
Iowans can start to gamble without any trouble as soon as they turn 21. If you are 21 years of age or older, then you can access any form of gambling in the state. Even though all the legal offshore sportsbook sites we recommend – those being Bovada, BetOnline, SportsBetting, BetDSI, and MyBookie – will accept players as young as the age of 18 (which is perfectly in accordance with their own local national gaming regulations, so there isn't anything shady about this), we nevertheless recommend that our readers stick to the above 21-year legal minimum age before participating in any kind of online sports betting for Iowa residents. You will want to adhere to this rule above any other, as violating this could lead to the breaking of other statutes.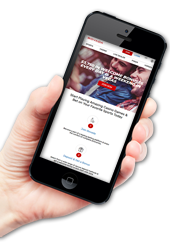 Iowa Sports Betting Apps
Iowans do have state-regulated sports betting apps available to them if they want to go that route to place their sports bets. There are at least five state-regulated betting apps available on both the App Store and Google Play Store for sports bettors in Iowa to place their bets from anywhere. There are also online sportsbooks like Bovada, MyBookie, and XBet that don't require users to download an app but instead can reach the online sportsbook from their iPhone's internet browser. Now that Iowans can bet on sports legally from any Apple or Android device, they no longer have to travel to a casino for their sports betting needs.
Live Sports Betting In Iowa
Along with the different platforms that players can wager on, live betting is a fun and unique feature that Iowa bettors can take advantage of. Live betting provides users with the chance to place more than just wagers before the sporting event happened but odds throughout the games. For NFL bettors, this gives you a chance to wager on betting lines that can be posted after timeouts and quarter changes. When the direction of a game switches after a huge play or a good drive, you can place bets on what will happen next. Live betting gives more chances to win cash prizes on a single game.
Land Based Gambling In Iowa
Currently, there are quite a few casinos and card rooms doing business in Iowa, there are plenty of sportsbooks that are currently active in Iowa. Alongside retail sportsbooks, you can go to one of our recommended online offshore sportsbooks to bet on your favorite teams in Iowa. The Internet is the last bastion of sports gambling, so you will also have the choice to stick to the web if you decide to play.
Here is a list of locations where sportsbooks have opened up in Iowa along with cities where new sportsbooks can open: Ameristar Casino, Bluffs Run Casino, Casino Omaha, Catfish Bend Riverboat Casino, Diamond Jo Casino, Dubuque Greyhound Park & Casino, Harrah's, Isle of Capri Casino, Lakeside Casino Resort, Meskwaki Bingo Casino Hotel, Mississippi Belle II Riverboat Casino, Rhythm City Casino, Winna Vegas Casino, Wild Rose Casino, Terrible's Lakeside Casino, Horseshoe Casino.
How To Deposit Money Into An Iowa Sportsbook?
There are multiple options when it comes to banking for these online sportsbooks. These sports betting sites make it very easy for those players that are signed up. When collecting a lot of money and making huge money transactions, it is very important to these players and users that their money is safe and transfers fast with no issues. Online sportsbooks have different banking options like using debit cards, bitcoin, and bank wire. There are other options that once you go to their sites and create an account, you will be able to move your money and earnings very easily. You still have the PayPal option as well which is very popular around the nation. E-wallets are another and there are many more. Now depending on which online sportsbooks you use determines which banking options are available to you. With all these different options, bettors have no problem making a transfer from their online sportsbooks to there bank account. With most of these banking options, it may only take up to a few days to get your money in your account.
FAQ About Online Sports Betting In Iowa
1) If PASPA prohibited Iowa from establishing a sportsbook, why did the Iowa state legislators in Iowa trying to regulate sports gambling?
There were literally decades of debate over whether or not PASPA was constitutional, and Iowa's legislators, to their great credit, realized this. However, now that the US Supreme Court has decided that PASPA was indeed unconstitutional and needed to be stricken from the federal rolls, the ball went well and truly in the Hawkeye State's court. Iowa state legislators took advantage of this new-found freedom by legalizing sports betting only one year after PASPA was repealed.
2) Where are the gambling laws listed for the state of Iowa?
You have to visit this website, then search them down individually. It is a slightly laborious task, and we readily admit that, but you should still give each of the pertinent laws a look over before you make your final decision as to whether or not to engage in sports betting at an online operator like Bovada, BetOnline, SportsBetting, BetDSI, and MyBookie.
3) The laws state that placing "any bet" is illegal. How does this not include the Internet sports betting laws?
Generally speaking, an express ban is required in order to prevent online sports gambling. At the very least, nobody has ever been arrested or charged with a crime for wagering online at a legal offshore sportsbook site like the ones we recommend most regularly for our readers here at SportsBettingIowa. The recent bill that passed also legalizes mobile sports wagering and because an internet connection is needed to use those platforms, it can be interpreted to allow for online sports betting.
4) How can I fund my account with these sportsbooks and how can I pull my money out of the account?
You will generally have to find a banking method, such as wire transfers, e-wallets, or credit cards. However, the best way to make a deposit in today's world is to use Bitcoin, Dash, Ethereum or any other cryptocurrencies that are accepted by the top legal offshore sportsbook sites.
Wire transfers, paper checks, and e-checks can all be used to pull money out of your account. Similarly to the question above, you can also use Bitcoin or any other popular altcoin to collect your winnings. Cryptocurrencies like these are among the fastest, safest and most reliable methods for completing a withdrawal out of your sports betting account.
5) Since Iowa passed a law allowing sports betting in the state, would I be able to bet online?
Yes, but only through sites provided by the state of Iowa or ones located overseas. Online sports betting sites that operate in other states are still off limits. Offshore sportsbooks are currently those that operate legally, accepting all international players unless otherwise specified. That includes Hawkeye State players, fortunately.
6) How Soon Can I Expect Land-Based Sportsbooks To Come To Iowa?
Prairie Meadows, a casino in Altoona, Iowa, has already built a sportsbook lounge in anticipation of legalized sports betting in Iowa. They believe the odds are in their favor to open their sports betting operations within the coming months. Other gaming facilities have also partnered with sports betting providers and are awaiting approval from the Iowa Racing and Gaming Commission. Land-based sportsbooks in Iowa should launch within the next year.
7) Isn't a license required to make these sportsbooks legal?
Technically, yes, that is the case. In reality, all of the betting sites we recommend are licensed - just not in Iowa. Sites such as Bovada, BetOnline, SportsBetting, BetDSI, and MyBookie all function as legal outlets that enable sports betting for Iowa residents specifically because of that fact.
8) Where are these sports betting sites licensed if they aren't in the state of Iowa?
These online sportsbooks for USA players are licensed in Costa Rica, the United Kingdom, Canada, and similar locations. They are all regulated by some kind of outside party and all of the ones we list can be trusted. Read more information about states with legal sports betting.