Iowa Sports Betting Bill To Be Discussed In Next Legislative Session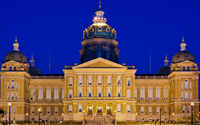 As college football season comes to a close, fans in the state of Iowa have a lot to look forward to. Hawkeye fans are coming off a huge bowl win against a ranked SEC opponent, and Cyclone fans finished the season ranked third in the Big 12. Many sports fans in the state would bet that those teams will finish with a winning record again next season, and they may have a chance to do so sooner than they realize.
Second Time Around
Next week starts the beginning of Iowa's 2019 legislative session. Democratic Senator Jeff Danielson plans on introducing a bill to legalize sports betting in Iowa and he's not the only one supporting the push for it. He also believes that sports betting is a game of skill rather than a game of chance.
"It's peer to peer. It's the ability to collect information, analyze it, and trust your own judgment with some money on the line," explained Danielson.
Last year house bill IA H 2448, a sports betting bill, would have legalized the activity inside the state's horse racing tracks and casinos. The bill gained a lot of traction and support from both Democrats and Republicans. Although, it was too little too late because the legislature adjourned just a couple of weeks before PASPA was repealed by the US Supreme Court.
A New Iowa Sports Betting Plan
This year presents a new opportunity and plenty of time to work out the details of how to bring about this gaming expansion. As of now, lawmakers are planning on allowing sports betting in Iowa through the state's casinos and mobile apps that are owned by the casinos. To use the mobile app players will have to physically sign in to ensure no underage wagers are placed. The types of sports allowed would be on both collegiate and professional level.
The plan would empower the Iowa Racing and Gaming Commission to oversee rules and regulations, but they are not the only ones with a vested interest in this type of gaming expansion. Along with many legislators support, Wes Ehrecke, President of the Iowa Gaming Association, has also previously begun to show interest in bringing sports wagering to 19 of the state's casinos.
"We believe many people are going to enjoy watching and betting on sports in a regulated and legal environment," stated Ehrecke when asked about the potential Iowa sports betting industry.
Neighboring states Illinois and Missouri are also in the process of possibly legalizing sports gambling, so this could pressure lawmakers to act fast and get a head start on collecting tax revenue generated from sports betting in Iowa. With this in mind, we'll be sure to keep an eye on any Iowa sports betting updates to come from this next session.
Best Iowa Sports Betting Sites - 100% Trusted + Safe
| | | | | |
| --- | --- | --- | --- | --- |
| | | 50% Up To $250 | VISA + Wire Transfer | |
| | | 50% Up To $1,000 | VISA, Bitcoin, Cash Wire | |
| | | 50% New Member Bonus! | VISA, Bitcoin | |
| | | 100% Up To $300 | VISA, Bitcoin | |
| | | 50% Up To $1,000 | Bitcoin, Wire Xfer, VISA | |